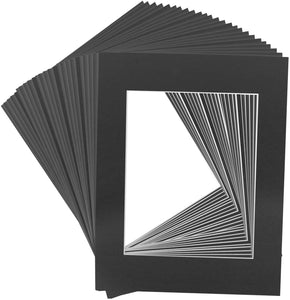 Our picture mats give your frames an elegant finish to your favorite pictures or documents. Each pack comes with 25 mats, white backing boards with chipboard on the back, and crystal clear bags for a size 11"x14" frame with an 8"x10" opening. Choose between our 5 available colors (black, white, white over black, white, over red, and white over gold).

Studio 500 is the #1 bestseller of luxury, high-quality mats, and are perfect for crafts, backboards, signs, children's projects, photos! 
The opening size for the Black is 16x20 is 11x14 = 10.75 x 13.75
11x14 is 8x10 = 7.75x9.75 these are made in the USA!
The Backing Boards for the Black 11x14 comes in 11x14 White with the chip boards, or it will come with White and Black.
25 VALUE PACK SET: includes 25 Black Pre-Cut Picture Mats with White Core Bevel Cut for Picture Mate Sets + with White Backing Boards + Bags, Black (Includes complete set of 25 11x14 BLACK Set not assembled)

PICTURE MAT OPENING SIZE: is 7.75" x 13.75" for 11x14; 10.75 x 13.75 for 16x20 print + photo + image

TOP OF THE LINE MATS: These Mats are top of the Line Luxury Mats and are 4-ply thick (about 1.4 mm or 1/16 inch). Backing Board Color is White with either Chip board or Black on the other side.

CLEAR BAG IS RE-SEALABLE: adhesive strip below the opening of the bag instead of on the top flap.